After a month in my Blender dungeon, here's a sneak preview of my 3D arcade blaster!
The terrain auto generates as you fly using perlin noise. I'm pretty proud of the texture blending on the terrain, it adds a lot of "production value".
Thanks to @Ignatz for the OBJ importer code, and @spacemonkey for the Codea port of the plasma explosion shader . I changed it to pre-multiplied alpha.
I'm currently working on skinning more worlds (I have a volcanic planet in the works which is shaping up very nicely), and I need to add more ship models, weapons etc. It's procedurally generated, but I also want to structure it with mid-level baddies etc.
It was originally much more arcade-y than this (the camera always pointed forwards, and the ship just rolled from side to side), now it's in a somewhat inbetween space, in that the camera points in the direction of the ship, but still very arcadey in feel.
[edit] some images: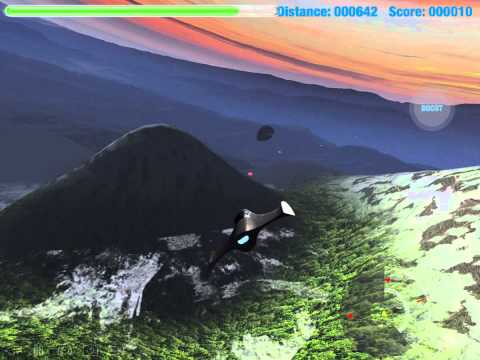 Tagged: