This is a well known multiplayer board game. Can be played from 2 to 4 players. Rules are as follows:
At the start of the game, the player's four pieces are placed in the start area of their colour.

Players take it in turn to throw a die. A player must first throw a six to be able to move piece from the starting area onto the starting square.

In each subsequent turn the player moves a piece forward 1 to 6 squares as indicated by the die.

When a player throws a 6 the player may bring a new piece onto the starting square, or may choose to move a piece already in play.

The player is also granted another turn as a bonus, but if a 6 is rolled three times in a row it is counted as a foul and the player therefore loses their turn.

If a player's piece lands on a square containing an opponent's piece, the opponent's piece is captured and returns to the starting area. A piece may not land on a square that already contains a piece of the same colour.

Once a piece has completed a circuit of the board it moves up the home column of its own colour. The player must throw the exact number to advance to the home square. The winner is the first to get all four of their pieces onto the home square.
Here is the link for the demo: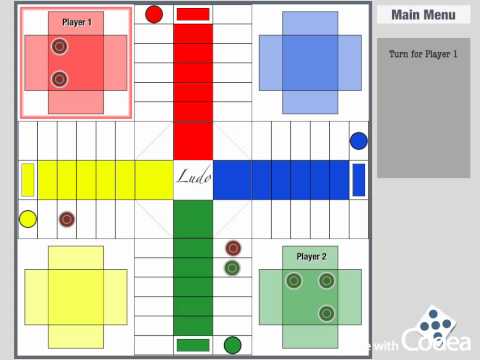 I have used a customized sprite for the dice. I am not sure how to upload that sprite pack (Dice.spritepack) to this site. Once downloaded It can be copied to User Applications/Codea/SpritePacks/. i used "i-FunBox" for windows to access file system.
I will post the code as well soon.
Tagged: